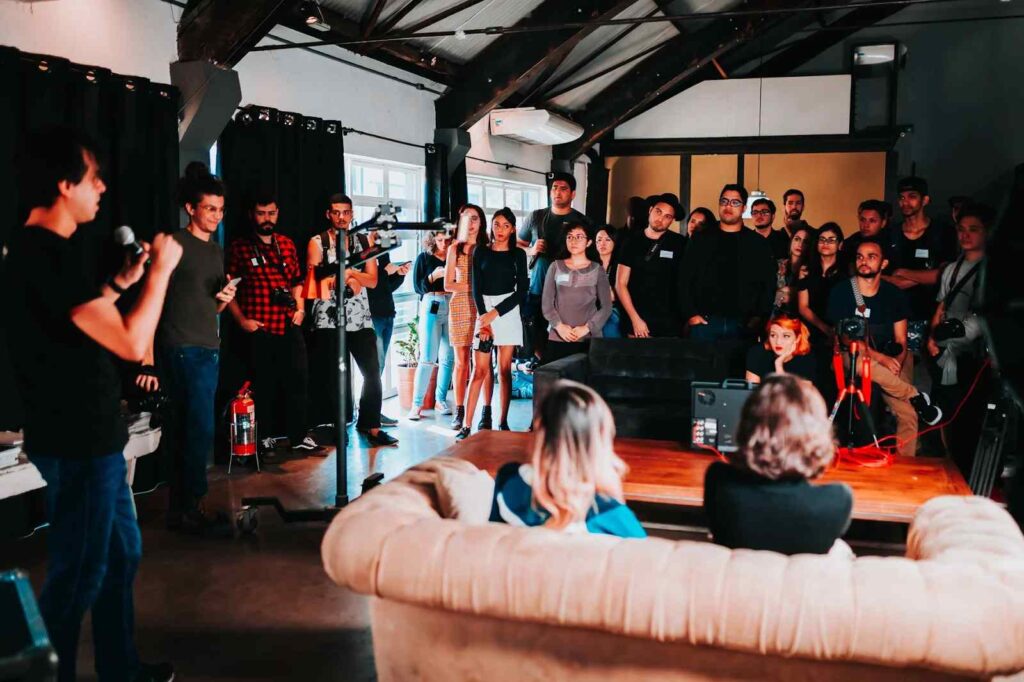 When it comes to corporate events, it's crucial to attract and engage as many customers as possible. Events hype up customers, helping excite them for new products and services. The big question still remains: what can you do to make customers attend and tell it to their family and friends?
There are numerous events that you can do that get customers talking and have them engage with your brand. Here are x event ideas you can do to attract customers and build lasting loyalty to your offerings.
Learning Events
Learning events are one of the most engaging ways to invite potential customers to your corporate event. They are fun, interactive, and will help promote brand loyalty. These events boost sales and customer partnership through consistent customer education.
One thing you can do is host an educational seminar. Teach your customers about a specific industry topic. This ties into your specific services, allowing you to discuss related issues that can help your business. For example, if you're a marketer, you can speak of utilizing content marketing strategies to engage customers and maximize your ROI.
There are countless channels where learning happens, from online classes to physical events. You can start to bring those learning to an event using technologies and the power of multi-platform experience. You can develop an eLearning platform with the latest tech to engage learners, which can be part of your company's events.
Interactive Events
Interactive events like scavenger hunts, challenges, and games are one of the best ways to boost sales. These tend to include both customers and employees in the event, so it's fantastic for improving employee retention.
Interactive events are also excellent if you have a younger, more active demographic. The millennial generation loves being active, so having an activity to participate in is a great way to keep them engaged. You'll also gain more insight into their buying interests and what their concerns are.
These types of game-based events "gamify" company events. This creates a fun environment that people will look forward to, especially if there's a potential for a big annual event.
Themed Contests and Festivals
Themed contests and festivals are fun activities that are great for showcasing what the company offers. With a contest, you can give prizes to winners based on predetermined metrics, like who came up with the best marketing campaign idea or who has the most loyal followers.
An annual festival is another enjoyable way to entertain your target audience. This makes the brand more exciting for not only current and prospective customers, but it also helps to "brand" the event. It's a place where people can socialize and have fun.
When you take the time to plan out your theme and décor, you can really wow your audience. A themed competition or booth can also change how people think about your offering. You can use it as part of in-store retail events even with a low budget.
Customer Appreciation Days
One of the easiest ways to attract more customers to your event is by personalizing it. Adding the customer experience to a special event through celebrations, discounts, and freebies creates a stronger bond between the customer and the brand.
Customers can receive rewards such as gift cards, special discounts on products, and free items at the event. The more you personalize these events, the better they will perform. One of the best things you can do is survey your past participants and discover what they want most. This helps you understand what the competition is doing, too, so that you're not behind.
Another way to incorporate personalization is by inviting attendees to share their pictures, experiences, and feedback through social channels. This opens up another channel of communication that you can use to promote your corporate message and brand image.
Charitable Events
Charitable events and fundraisers are common among companies. These improve customer loyalty and trust and help cultivate good PR. This strategy can help the teamwork together and form bonds. Whether for raising money for cancer research or a local shelter, charity events are worth every penny. Choose something that the staff feels strongly about, and watch the difference it can make.
Furthermore, it also brings businesses closer together, allowing your employees to interact and engage with each other. This not only helps strengthen the bonds within your office, but it also helps strengthen customer relationships.
People are more likely to buy from companies that help the community. Whether your organization gives donations, volunteer time, or charity sponsorships, you'll see higher customer satisfaction, loyalty, and, most importantly, more profit.
Community Service Events
Community service is an excellent option for enhancing customer engagement. It encourages your audience and your staff to participate in a corporate social responsibility initiative. These benefits can boost morale, increase collaboration, and increase sales.
Studies have shown that companies with high levels of employee engagement enjoy better rates of business performance. The benefits of community involvement are numerous, from attracting new customers to boosting support of a brand.
You can motivate staff to get involved in community service by allowing them to share how they spend their time. Another way to keep them interested is by offering them incentives. You can reward them for participating in community programs, such as donating money, volunteering their time, or serving on an organization's board of directors.
Webinars and Virtual Events
Webinars are typically used for one-way communication. Companies will discuss topics, but the audience won't interact. Instead, a virtual event is a more conversational format, where viewers can participate in real-time discussions. This lets the speaker and audience connect, which increases the chances of building relationships.
There are many different types of webinars. You can run live sessions, which are the most popular choice. You can also do virtual conferences, which are meetings that happen in a virtual environment. You can use either to improve your market reach, including reaching people outside of your network.
You can utilize both webinars and events to network with other professionals in the field. Success attracts success, so the more you put yourself out there, the more likely you are to meet new connections. Participants in these live events join because of similar interests and goals.
The Bottom Line
Whether you decide to take advantage of these or any other options for your upcoming event or conference, these events should help you out. They are fun and easy to do, helping you attract more visitors to your venue and improve conversions and get people to come back.
The future of business is knowing what works for your business, so start taking advantage of these engagement options. If you're looking to learn more, find out more business strategies today.